Directline Structures are pleased to announce that Katy Murray has joined the business full time.
It started with a love of LEGO as a child. Now, more than 20 years later, Katy Murray is on her way to realising her life-long ambition to become a fully qualified architect.
The 25-year-old graduate has just joined her parents' award-winning building design and construction company, Directline Structures, as a full-time designer, having gained valuable experience at the Ashford-based company since the age of 15.
"I've never wanted to do anything else," says Katy, who lives in Ashford and is a former pupil of Cranbrook School. "I used to build LEGO walls with my dad when I was a child and then we'd test them to find the weak points. I soon learnt that I could strengthen them by overlapping the blocks.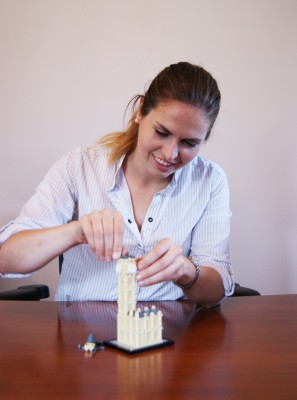 "From an early age I remember sitting around the kitchen table with my parents, listening to them discussing various construction projects. I found it fascinating and, as I got older, they encouraged me to give them feedback on their designs."
Katy describes herself as one of a new generation of 'collaborative' architects: "Architects shouldn't view themselves as head of the construction process – the so-called 'star-chitects' – but a part of it," she says. "That's why I've chosen to work at Directline Structures, where the emphasis is very much on teamwork and collaboration between a trusted group of specialists."
Having studied design and technology, as well as art, physics and maths at school, Katy went on to spend four years at the University of Bath – one of the most highly rated for architecture in the Sunday Times University Guide 2014 – where she gained a BSc (Hons) in Architecture. She then gained a Graduate Diploma in Architecture at Kingston University, West London. Following completion of her university degrees, Katy is now Part 2 qualified and will spend another year in practice before sitting her final exams.
She has enjoyed work experience at three Kent architect firms but it was at her parents' company that she found her real inspiration.
"There's a world of difference between theory and actually putting a design into practice," says Katy. "My first year at the University of Bath included a focus on civil engineering so I'm able to approach construction projects with the practical mind of an engineer as well as the creativity and design flair of an architect.
"Directline Structures specialises in one-stop design and build projects and provides the whole package to clients, from concept right through to completion. That means I have the immense satisfaction of being involved in all aspects of the construction process and seeing a project that started as a concept sketch come to fruition."
Katy's father and managing director of Directline Structures, Duncan Murray, adds: "Katy has always been very passionate about the business and has been working part-time with us over the last few years. We're delighted she's chosen to join us full-time following completion of her degree.
"She has already been involved in a number of highly successful projects, including a sports hall and 6th form centre, and her fresh ideas and enthusiasm will make her a valuable addition to the team as the company continues to expand."
Directline Structures has been developing commercial steel buildings since 1988 and specialises in cost-effective buildings for the education sector across the South East of England.